Textus Receptus New Testament Variants
---
2:1
παρακαλω ουν πρωτον παντων ποιεισθαι δεησεις προσευχας εντευξεις ευχαριστιας υπερ παντων ανθρωπων
2:2
υπερ βασιλεων και παντων των εν υπεροχη οντων ινα ηρεμον και ησυχιον βιον διαγωμεν εν παση ευσεβεια και σεμνοτητι
2:3
τουτο

TR/BM

γαρ καλον και αποδεκτον ενωπιον του σωτηρος ημων θεου
2:4
ος παντας ανθρωπους θελει σωθηναι και εις επιγνωσιν αληθειας ελθειν
2:5
εις γαρ θεος εις και μεσιτης θεου και ανθρωπων ανθρωπος χριστος ιησους
2:6
ο δους εαυτον αντιλυτρον υπερ παντων το μαρτυριον καιροις ιδιοις
2:7
εις ο ετεθην εγω κηρυξ και αποστολος αληθειαν λεγω

TR/BM

εν

TR/BM

χριστω ου ψευδομαι διδασκαλος εθνων εν πιστει και αληθεια
2:8
βουλομαι ουν προσευχεσθαι τους ανδρας εν παντι τοπω επαιροντας οσιους χειρας χωρις οργης και διαλογισμου
2:9
ωσαυτως

Ax

και

TR/BM

και

TR/BM

τας γυναικας εν καταστολη κοσμιω μετα αιδους και σωφροσυνης κοσμειν εαυτας μη εν πλεγμασιν

Ax

και

TR/BM

η

Ax

χρυσιω

TR/BM

χρυσω η μαργαριταις η ιματισμω πολυτελει
2:10
αλλ ο πρεπει γυναιξιν επαγγελλομεναις θεοσεβειαν δι εργων αγαθων
2:11
γυνη εν ησυχια μανθανετω εν παση υποταγη
2:12

TR/BM

γυναικι

TR/BM

δε διδασκειν

Ax

δε

Ax

γυναικι ουκ επιτρεπω ουδε αυθεντειν ανδρος αλλ ειναι εν ησυχια
2:13
αδαμ γαρ πρωτος επλασθη ειτα ευα
2:14
και αδαμ ουκ ηπατηθη η δε γυνη

Ax

εξαπατηθεισα

TR/BM

απατηθεισα εν παραβασει γεγονεν
2:15
σωθησεται δε δια της τεκνογονιας εαν μεινωσιν εν πιστει και αγαπη και αγιασμω μετα σωφροσυνης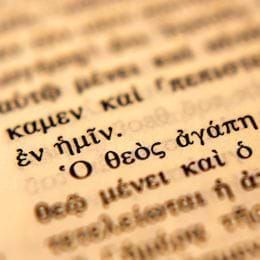 Textus Receptus
New Testament Variants
Whether you can read Greek or not, this New Testament Bible will show you the differences between the Textus Receptus, Byzantine Majority text and the Alexandrian text. This new Greek text combines all three texts into one Bible and marks the differences.
The variants within the different texts are what separate the underlying manuscripts into the various families of texts. Superscripted markers show the difference in the text and the first word of each difference is highlighted.
Superscript markers:
TR = Textus Receptus
BM = Byzantine Majority Text
Ax = Alexandrian Text
The Textus Receptus is represented by the Stephanus 1550 and Scrivener 1894 texts and if there are differences between these two then the year is shown in the superscript.